ScheduleAnywhere is online employee scheduling software that makes it easy to schedule your employees from any computer or mobile device with Internet access, giving you unparalleled scheduling software flexibility and power
Fill Open Shifts
Did someone call in sick or you need extra staff? ScheduleAnywhere lets you message qualified and available staff via email and text message in seconds. No more phone calls to find replacements.
Custom Views
You can schedule your employees from one of four different views. Choose a one-day view, a 7-day view, a 14-day view, 28-day or 42-day view
Sample Daily view
Sample Weekly view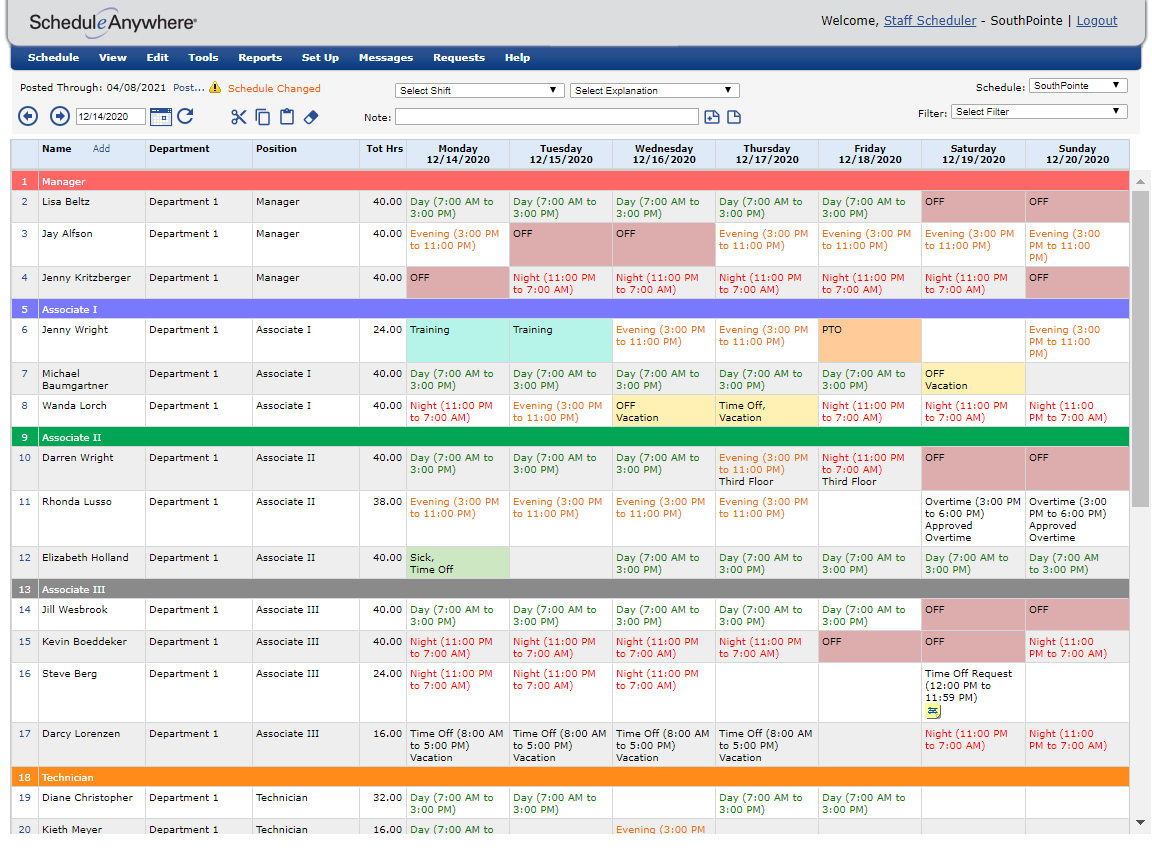 Sample 14 day view
Sample 28 day view
Sample 42 day view
Rotate and Copy Schedules
ScheduleAnywhere is the fastest way to schedule employees. You can schedule multiple employees in one easy step and copy schedules or rotations so you don't need to re-enter redundant or repeating schedules
Control Overtime
ScheduleAnywhere can help reduce unnecessary overtime. Instantly see how many hours someone is scheduled. If an employee is shared with other managers, departments or locations, you'll always know how many hours a person scheduled across all schedules, which can help control labor costs
Track Skills and Certifications
ScheduleAnywhere can keep track of employee attributes, such as skills, training, and certifications. If your employees are licensed or certified, our online scheduling software will help make sure they stay current and reduce your legal exposure
Flexible Reporting
ScheduleAnywhere includes many built-in schedules and reports. These can be run for an employee, or a group of employees, for any date range. Our reporting is simple and flexible, but powerful
Daily Roster
Staff Schedule
Group Schedule
Employee Schedules
Personal Schedule
Daily Stats
Estimated Cost
Search
Seniority
Skills
Staff Profiles
Time Off Requests
Schedule Requests
Total Hours
Developer API
ScheduleAnywhere is a cloud-based, employee scheduling solution that's available with or without an Application Programming Interface (API). Due to the size of your organization, the number of employees your business manages, or the sophistication of your organization's scheduling needs, you may want to integrate ScheduleAnywhere with other software applications. It is commonly used by software developers and system integrators to:
Maintain employee information
Add approved time-off requests
Retrieve work schedules
Support single sign-on (SSO)
For more information on the API and pricing, please call 1-800-874-8801.